"What does it cost to ship a shipping container overseas"
"Are you considering moving overseas with a shipping container? When working with CargoMaster you save when moving overseas and shipping containers overseas, the exact cost will depend on several factors, for example where in Australia you are shipping from, the overseas destination you intend shipping to and the commodity you intend to ship (A commercial shipment or household goods?)"  International freight forwarders like CargoMaster will be able to give you a ALL IN" rate from Australia to most container port around the world CargoMaster
"What types of goods do you ship overseas in a shipping container"
"CargoMaster is one of Australia's original  self pack international movers and moves all types of goods overseas in shipping containers including shipping and moving furniture and cars, also personal effects for clients relocating overseas. CargoMaster has helped 100's of happy families relocate to all corners of the world. CargoMaster handles international freight services  for commercial shipments overseas too, including construction machinery, mining equipment, trucks, buses, excavators and heavy industrial machinery, carefully handling the demands of overseas show bands and equipment for confrences and global exhibitions. CargoMaster offers emergency logistics services for machinery and relief equipment."
"What size containers are available for overseas shipping?"
"There are 2 main types of containers 20ft and 40ft, generally a 20ft container will hold a 3BRM house load, if you intend shipping your car too then a 40ft container is probably what you need but call CargoMaster we will be able to advise/help you."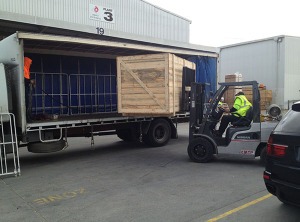 20FT OVERSEAS SHIPPING CONTAINER DIMENSIONS
"A standard 20ft overseas shipping container is probably the most popular, mainly because they are plentiful and easier to handle."
20FT  CONTAINER EXTERNAL DIMENSIONS: L 6.06 X W 2.44 X H 2.60
20FT CONTAINER INTERNAL DIMENSIONS : L 5.84 X W 2.35 X H 2.39
20FT CONTAINER VOLUME: 33.1 Cubic Meters
20FT CONTAINER FLOOR AREA:13.3 Square Meters
20FT  CONTAINER WEIGHT: 2,200.000 KG
PRO'S AND CON'S OF A 20FT CONTAINER
For the Pro side ,The 20-foot containers have one distinct advantage over the 40-foot containers. They are significantly easier to transport and maneuver.  They are also cheaper than the 40-foot containers.  If you are on a limited budget, the 20-foot containers will be your best choice.
20ft  containers do have some Con's too , each container offers a floor space of around 144 square feet. If you need a larger space your only option would be to combine two containers together.  Second, although individually they are cheaper than 40-foot containers, their price per square foot is actually more expensive. When shipping containers overseas 40ft containers are your best value
40ft OVERSEAS SHIPPING CONTAINER DIMENSIONS
The 40-foot container, offers exceptional value for money and twice the interior space. When relocating overseas 40ft containers are popular for shipping furniture and a vehicle too
40FT  CONTAINER EXTERNAL DIMENSIONS: L 12.2 X W 2.44 X H 2.40
40FT CONTAINER INTERNAL DIMENSIONS : L 12.03 X W 2.35 X H 2.39
40FT CONTAINER VOLUME: 67.5 Cubic Meters
40FT CONTAINER FLOOR AREA:28 Square Meters
40FT  CONTAINER WEIGHT: 3,800.000 KG
PRO'S AND CONS OF A 40FT CONTAINER
Due to the 40-foot container's size, there is more than 300 square feet of usable space in the interior.  Another advantage you have with the 40-foot container is that they represent greater value for money overall when compared to a 20-foot container. Because they are considerably longer you have the option to divide the container up into multiple rooms which you cannot do with the smaller 20-foot containers. "Heavy Tested" containers can hold approx 28,000.000KG. 40-foot containers are more expensive to transport and delivering these to remote locations can be challenging. They are also difficult to maneuver, so make sure you know exactly where you want them placed on your land before they are delivered.
HOW TO PACK INTERNATIONAL SHIPPING CONTAINERS
People often call CargoMaster looking for a cost-effective way to move overseas. Many of the callers like the idea of moving using a CargoMaster Self Pack International shipping container but they are unsure about how they should pack the container correctly, of course CargoMaster is only a phone call way if help is needed, CargoMaster understands it can be daunting arranging for a shipping container to be delivered to your home for packing your precious belongings. CargoMaster has put together below some information to help you pack your shipping container. As with most things in life, the more time taken to do the job correctly the better the result will be when you come to unpack your container at your overseas destination.
SHIPPING CONTAINERS ARE TRANSPORTED BY SEA, ROAD AND RAIL
CargoMaster uses several different methods to deliver and pick up container, mostly tilt tray vehicles are the preferred way to transport containers . Tilt trays have a sliding deck , your container is lowered to the ground via a winch, so at times during the delivery and pick up service the container will be on an angle, this is why you need to secure your goods so that they are not able to slide around in the container. CargoMaster also uses side loader trucks to deliver and pick up containers, side loaders are usually used for the transport of 40' containers. Some people request side loaders only which is no problem .
During the rail portion of the transit, although your container is level, it will be in constant movement for up to a week, depending on where you are moving to and from. Although it's a minimal movement, it is constant so you need to ensure that your furniture inside does not have the opportunity to shift about and come into contact with other items of furniture which could cause scuffing marks.
HOW TO SECURE FURNITURE INSIDE A SHIPPING CONTAINER
It is important that you have the correct equipment to load your moving container correctly. The most important items that you will require are
✓     Heavy-duty furniture blankets to wrap your furniture with
Blankets and padding are essential items when you are loading your container.
Every item of furniture you load needs to be protected from moving up against other items of furniture.
✓     Rope/Straps to tie items to the rails inside the walls of the container 
Ensure that you have plenty of ropes and tie-down straps to secure the container contents
Again, these are absolutely crucial to ensure the container contents stay secure during transit
✓     A furniture trolley to place items in place inside the container. 
Although it's not essential, a furniture trolley is certainly helpful to move large/bulky items into the container.
It is a good idea to have bubble wrap and plastic covers for mattresses . Make sure you use strong boxes and try not to make the boxes to heavy so that they are easy to manage. You can purchase packing materials from places like Bunnings, Officeworks and Storage King.
TRY TO PACK TO THE CEILING HEIGHT OF THE SHIPPING CONTAINER
CargoMaster offers 20' and 40' and 40' high cube containers for international shipping . It is important to try to pack your container to the roof or top of the container, packing lighter things higher and heavier items to the floor of the container The trick is to utilise all the space to the top, to pack upwards all the way to the top where possible. Load smaller items in gaps and corners and at the top. Use the tie down points at the top to brace of /strap the goods so they stay securely in place.
SECURING FURNITURE TO THE WALLS OF A SHIPPING CONTAINER
To keep your furniture secure during transit, it is necessary to tie larger and heavier items of furniture to the tie rails which are located throughout the shipping container. Before you do this, you want to make sure that your item of furniture is sufficiently wrapped and protected. As you can see in the image above, plastic wrap has been used to secure the drawers in place and to prevent them from sliding out. Don't forget, you can utilise the space within the drawers to pack smaller items such as clothing. In this instance, the dresser is wrapped with plastic wrap and then a large furniture blanket is placed over the entire set of drawers, folded around the back and then secured in place with rope. This piece of furniture is now safe from scuffing or bumps from other items of furniture as well as being secure for when the container is uplifted and during transit.
SECURING AND LOADING MOTOR VEHICLES IN SHIPPING CONTAINERS
If you are loading a car into your container and also your household goods and personal affects you need to make sure everything is secure as you don't want anything moving around causing damage.
Begin by marking out a "footprint" that the car will make inside the container, so you know how much space you have around it for loading your furniture. It is important that you use high-quality tie-down straps with a sufficient lashing capacity to secure your car to the container walls. The average small to medium car weighs anywhere from 1 – 2 tonne so you want to make sure the straps you choose can handle the weight of your vehicle.
Once you have a plan of where your vehicle will be secured in the container, you can either load and secure the vehicle first and then load the furniture around it or you may find it easier to load the rear of the container with furniture and then the car and then finally fill in the gaps left with additional household items. Don't forget that you can load the car with items as well, so long as the driver's seat is kept clear to drive the car in and out of the container.
TIPS TO REMEMBER WHEN PACKING A MOTOR VEHICLE INSIDE A SHIPPING CONTAINER
✓     Pack and Secure the car into the container with a minimal amount of fuel in the tank.
(Flammable liquids are not safe in a shipping container and the smell of the fuel evaporating during transit will permeate the rest of the container contents)
✓     Secure the car in the container by ratchet straps (x 4) and blocking and bracing the wheels of the motor vehicle.
✓     Secure each wheel with its own ratchet strap to the heavy tie-off points located at the base of the container
✓     Remove the aerial, side mirrors and anything dismountable from the exterior of the vehicle.
✓     If needed you can Use the space inside the car to load additional items.
LOADING YOUR MATTRESS INSIDE A SHIPPING CONTAINER
Bed frames, bases and mattresses are best secured to the outside walls of your moving container. CargoMaster recommends you dismantle your bed frame to save on space. Bed bases and mattresses are best loaded in an upright vertical position against the container wall. It's a good idea to place mattresses into plastic bags, available from Storage King. It can then be covered with a furniture blanket and easily secured to the tie rails. If you are loading multiple mattresses, the space in between two mattresses is a great spot to put your flat-screen television or any large framed artworks or mirrors.
CONTAINER STUFFING TIPS
✓    Load the heaviest and largest items of furniture around the outside container walls first, tying them securely to the tie rails.
✓    Distribute weight evenly throughout the container – do not create a heavy end or side as it can cause instability when loading/unloading from the truck.
✓    Pack your linen/doonas/towels/cushions/pillows into heavy-duty plastic bags and then utilise these for padding between furniture and to fill in gaps.
✓    Pack the container as tightly as possible to minimise movement of the contents during transit.
✓    Do not pack high stacks of cardboard boxes. The weight of those on top can cause the bottom ones to collapse. It is better to load an even layer of boxes if possible.
✓     Do not load liquids into a container unless they are fully sealed and contained.
✓     If your container is going to placed on blocks, hire a ramp from a local hire shop to allow you to get the trolley easily in and out of the container.
✓     If you are moving to or from a tropical climate such as far north QLD or planning to store your container for an extended period, place some moisture-absorbing packs in the container to assist with condensation buildup.
MOVING OVERSEAS SHIPPING OTHER TYPES OF CONTAINERS
High Cube Containers
If you are looking for a bit more height then a option may be a high cube container. High cube containers have the same width and length dimensions as a standard container  (as listed above), but they are an extra foot taller. High cube containers aren't as common as standard containers they tend to be more expensive. Shipping lines only offer 40′ high cube containers for overseas shipping however 20′ high cube containers are available for purchase.
40ft HIGH CUBE OVERSEAS SHIPPING CONTAINER DIMENSIONS:
40FT  HIGH CUBE CONTAINER INTERNAL DIMENSIONS : L 12.03 X W 2.35 X H 2.64
Open Top Containers
Open top containers are self-explanatory. They are essentially the exact same as the containers mentioned above BUT, they don't have a roof on them. You can get open top containers in both the standard 20-foot or 40-foot size and 40-foot high cube container sizes.
Remember that manufacturers have slightly different tolerance levels, normally +/-5 mm,  so make sure you contact the supplier to get the exact dimensions. All shipping containers should be made in compliance with ISO 668:2013 – Series 1 freight containers — Classification, dimensions and ratings, so take a look at the standards if you need classification information.